Contact Us
Get in touch with us to answer your questions and help you find what you need.
TEL : 0576-88011767/88029857
FAX : 0576-88011385
EMAIL : info@0086plastic.com
MOBIL : 15355767008
URL : www.0086plastic.com
Certifiaction



PC Film|PC Sheet
Company Intro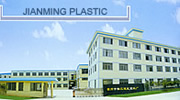 Taizhou Jiaojiang Jianmin Plastic Factory specializes in producing a series of sheets and plastic cup, such as ABS sheets, PMMA sheets,Composite sheets and PP cups and so on.
The products are extensively used in the fields of refrigerators, advertising, sanitary ware, motors, construction and so on. Now, the company owns five 5-layer co-extrusion pc sheet production lines which is international advanced, and the annual production of ABS sheets and PMMA sheets is more than 10,000 tons.
Beside,we have six vacuum Forming production line,and the quatity is 2,000,000 pieces every day; ten injection molding production line,and the quatity will be 500,000 pieces every day.One PC film production line, and we will enhigher our technology.
[
Click for detail
]